Prevent and Treat Stretch Marks with Our Unique 3-Step Formula
Stretch marks are a nightmare. They make you self-conscious about your body and negatively affect your dressing, gesture, and career. Stretch marks appear when hormonal changes make your skin dry, less elastic, and more likely to break. Our body oil moisturizes your skin and improves its elasticity to prevent skin breakage.
When I got pregnant, I struggled with the fear of getting stretch marks. So I created a non-toxic and partially organic formula that prevents and treats stretch marks. Here is how it works.
Step 1: Nourishing Omegas 3, 6 & 9 get absorbed by the skin.
Step 2: The Omegas induce hydration and elasticity beneath the surface of the skin, locking in moisture without clogging skin pores.
Step 3: Deep penetration bonds together your elastin fibers when they are under pressure. Also, our body oil absorbs quickly.  No wet, sticky or oily shirts.
Remove existing stretch marks in 4 weeks

If you have existing stretch marks you are worried about, the specially blended natural restoration ingredients in our
body oil can drastically minimize their appearance. Your stretch marks will gradually fade, leaving behind a soft and supple skin.

The Amazing Stretch Marks Prevention Body Oil
Omega-Rich Elasticizing Oil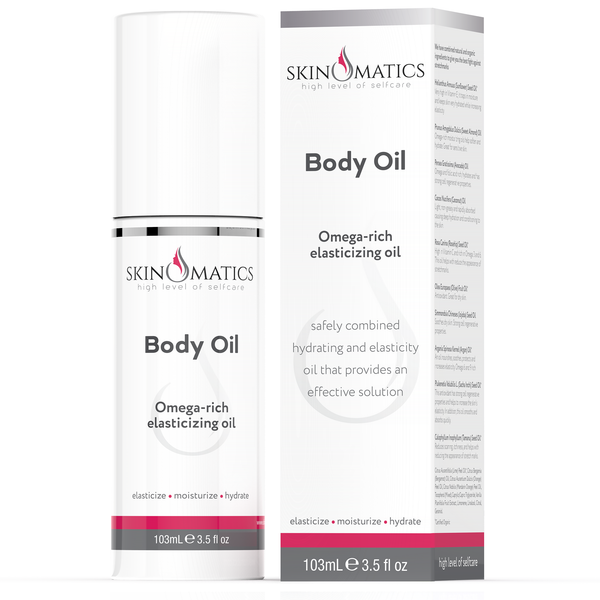 Omega-Rich

Omega-rich complex drastically increases skin elasticity

Organic Ingredients

Natural plant based actives make our oil safe for sensitive skin

Hydrating

Induces a refreshing and gentle hydration that seeps beneath the surface and stays

Moisturizing

A non-oily, non-greasy formulation that softens and conditions your skin
We Care About Your Sensitivity To Smells
We realize pregnancy can sometimes make you nauseous and ultra-sensitive to smells. That's why we added in our oil a delicate and light natural fragrance that melts into thin air seconds after you apply.
A touch of vanilla toned down every ingredient to perfection. We have designed the smell to adapt to the natural scent of your skin, which leaves you happy and nausea free
Clinally Proven To Be A Powerful Defense Against Stretchmarks
During a clinically study, 100% of 30 women, who tested our
oil for 4 weeks, saw a 98% improvement in their!
Don't let your stretch marks change the way you feel about your body. Our stretch mark products are 100% natural and loaded with omega-rich skin stretch complex that moisturizes the skin, improves skin's elasticity, and prevents stretch marks from appearing.
Best Seller!
Our popular body oil is a non-oily oil that immediately absorbs into the skin and makes it super soft, hydrated and moisturized.
The light sheen will show that your skin has begun to elasticize. Even if stretch marks do appear, they will be lighter and less visible, and likely to fade soon.

If you have pre-existing stretch marks, this oil will drastically minimize their appearance.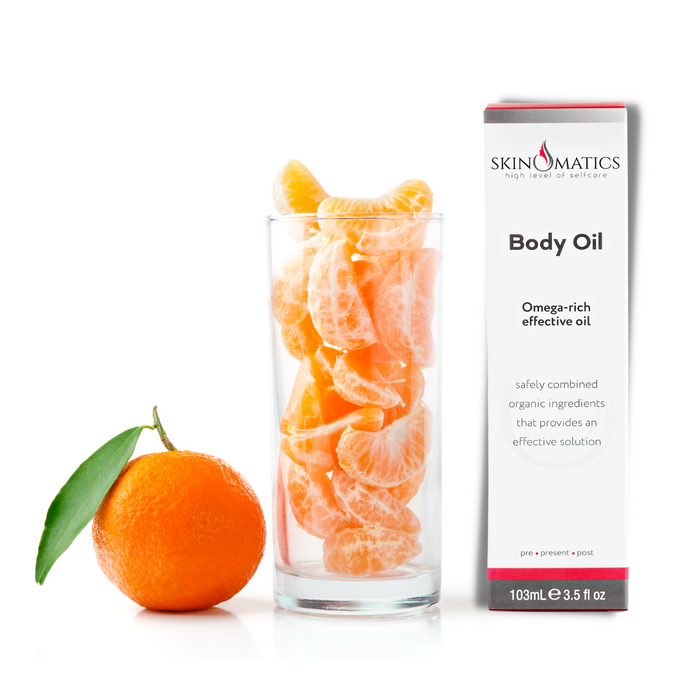 Feel Beautiful and Confident Post Pregnancy Our Products are safe, effective and cruelty-free.
What Our Customers Think
Don't Just Take Our Word For It
Amazing! I am so happy with the results I have got from using this. Thank you so much and I 100% recommend this.
5* to the customer support team. I had a problem with my order and I must say, I am very impressed in how it was handles. Will definitely be back.
I can't believe it! This oil actually does what it promises. I have tried so many others and this is the only one that has worked.
Best Seller!

Our popular body oil is a non-oily oil that immediately absorbs into the skin leaving in super soft, hydrated and moisturized. The light sheen will remind you that your skin is putting up a fight and elasticizing. Even if stretch marks do appear, you will struggle to see them. If you have pre-existing stretchmarks, this oil will help minimize the appearance of them.